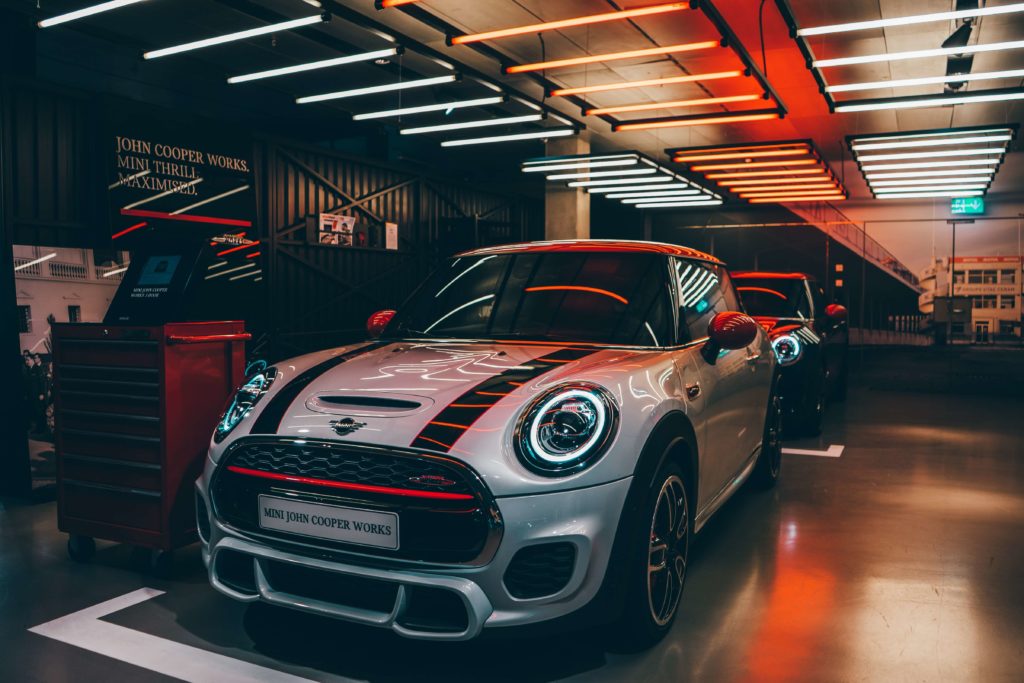 There have been so many changes to day-to-day life recently, and we've all had to adapt quickly. Similarly, as we've had to adapt as individuals, so have global industries. The car industry is ever changing and evolving during the current situation that we all find ourselves in.
adapting
With many car forecourts now closed across the world, dealerships are relying heavily on video communications to keep in touch with their clients. Customers are still able to view cars through virtual tours delivered via email. Brochures are particularly useful at the moment too. With customers being able to view models both in print and online, all from the comfort of their own home.
MOTs due from 30th March have been granted a 6 month exemption period by the government. It is important that all vehicles are road safe, and any major issues resolved. Garages are open for emergencies, contactable by phone and willing to help as best as they can. In many instances there are special discounts being offered to NHS staff and key workers.
manufacturing
Many car factories have closed down temporarily across the world. Nissan being one of them, who have haulted production in their Sunderland factory throughout the month of April 2020. Alongside Mini who released the following statement, "We have taken the difficult decision to cease production at our UK, European, South African and North American plants until 30 April".
Ferrari's legendary Maranello factory is working to help battle the coronavirus in a different way. The department that would normally be developing new car prototypes is producing respirator valves and fittings for masks. It is inspiring to see this innovation and adaptability within the car industry. Find out more about this from Formula 1.
However, Volvo are resuming production in a number of their European factories as of Monday 20th April 2020. So as you can see, things are changing everyday in many ways throughout the car industry.
how is motorly adapting?
We are offering a special 25% discount on breakdown cover with the code 'MOTORLY25' during this time.
It is important to make sure that your car is protected if it breaks down at home from a lack of use. Or, if you are out to pick up food shopping for the family and are unlucky enough to get stuck along the way. Our breakdown cover also makes sure that key workers can get to and from their essential roles in the community. We provide a range of insurance and maintenance services to keep your vehicles safe and protected.
At motorly we are commited to providing the highest level of service to our customers at all times. We strive to continue providing that service during this difficult period. Rest assured that any application for car, bike, van or caravan finance will be processed. Plus, any questions that you may have will be answered. Thank you to you all.
Stay home & stay safe. #wearemotorly
The team at motorly are well prepared for the unforeseen circumstances caused by coronavirus, as all of our services are online-based. Meaning that during the outbreak of covid-19, we are able to carry on working hard behind the scenes. Providing our customers with a range of motoring services from car finance to breakdown cover.
We can confirm that our team are now predominantly working from home. Staff members who live in walking distance of our main office will be popping in only when appropriate and essential.
Our database and CRM systems run on Amazon Web Services (AWS) cloud system. Therefore, this is not impacted by a local emergency or disaster resulting in office closure. All staff are laptop-based or have a home office setup. We are able to work as normal, without any interruption to daily tasks.
Internal office telephones run on a cloud-hosted VoIP system. Phones can be operated in any location with internet connectivity, through laptops, or mobile devices. Accessibility of staff is not impacted by temporary office closure.
Furthermore, documented processes, procedures and controls are in place to ensure business continuity in the event of such an adverse situation. As a result of our measures and controls as outlined above, we are confident that we can continue to provide our partners and customers with a high level of service in the event of a disaster or emergency.
how to contact us
If you would like to speak with the team, we kindly ask that the preferred method of contact at this time would be online. Please find the relevant links below:
Alternatively, you can contact us by phone on 0161 519 1550.
motorly is committed to protecting staff and customers by following government guidelines. We acknowledge that these are difficult and unprecedented times and we wish you and your family well.
motorly has been an official stadium sponsor of Altrincham FC since the start of the 2019/2020 season. We are very proud of our pitchside board.
motorly is an Altrincham based business, and we are glad to be part of this thriving northern town. Altrincham was recently named one of the happiest places to live in the UK – we couldn't agree more. Alty also won The UK's Best High Street back in 2018. This award was a celebration of the bustling town centre and boost that Altrincham Market brought to the town, which our office is just opposite. Since winning this award Altrincham has done nothing but prosper as a community, and we love being a part of it.
"There has definitely been an increase in the town in footfall. It's definitely been a highlight of reputation and advertisement for the businesses, so it's brought new people and new faces into the town."

Chris Taylor, Gran T's Coffee House in Altrincham
We felt that sponsoring Altrincham FC was a fantastic way to support both the local area and grassroots football. Plus, we are all football fans here at motorly. We've had team days where we have gone to games. Justin, the motorly founder managed to snap this picture of the Alty FC mascot. C'mon you robins!
Sponsoring the J Davidson Stadium on Moss Lane has given motorly visibility in the public space in Altrincham. Helping put us on the map locally, whilst demonstrating our support for the area. It's great for us to get this exposure to over 20,000 people, how many individuals watched football at Moss Lane last season. Altrincham FC currently sits fifth in the National League North table. The club are performing well and enjoying a great season with 57 points behind them so far. Finally, Altrincham FC is more than a Football Club – they are an integral part of the community and we are very happy to support them.
Catch Altrincham FC live in action at Moss Lane or away. Simply check the club's fixtures here. You can also keep up with the robins on Facebook and Twitter.
There are five people killed on UK roads every day. This shocking statistic highlights the importance of the work that Brake carry out all year round. With this in mind, we decided to support the road safety charity. After contacting Brake's corporate fundraising department, who we found to be extremely helpful, we decided to go ahead and commit our support.
We are delighted to announce that motorly is an official corporate donor of Brake, the road safety charity. Brake is an influential organisation that is committed to supporting families bereaved in road crashes. Also, they run nationwide campaigns to make roads safer for all. Additionally, Brake provides essential road crash victim support, raises awareness of road safety and promotes best practice on the roads.
"Brake is a road safety charity working with communities and organisations across the UK to stop the tragedy of road deaths and injuries, make streets and communities safer for everyone, and support people bereaved and seriously injured on roads."
brake's activities
Running a helpline for bereaved and seriously injured road crash victims
Providing essential support literature for families and children
Organising awareness and fundraising campaigns all year round
Co-ordinating the worldwide campaign #RoadSafetyWeek every November
In support, motorly took part in #RoadSafetyWeek back in November 2019 with #BakeforBrake. We are looking forward to getting involved for the second time this year in 2020, as our first year as a corporate donor. We are eagerly planning more fundraising activities that we can carry out internally. There have been discussions to join a charity run as a team! We are researching as many ways as we can to support Brake's fantastic work.
As an independent motoring comparison platform, we make sure our customers have access to the very best deals. Although, it is just as important to motorly that our customers understand the importance of safety on the roads too.
Owning and driving a vehicle is a big responsibility. Sadly, too many people die worldwide as a result of careless road traffic accidents. This is one of the many reasons why we decided to officially support Brake. We are committed to regularly share safety updates from Brake. Therefore, ensuring our customers are aware of the latest road safety information.
fundraising
We encourage our customers to visit brake.org.uk and support the incredible work that they do. Look out for Brake's fundraising activities and opportunities across social media. Don't forget to share your fundraising activities with us! Contact us on social media via Facebook, Twitter or Instagram. You can drop us an email at info@motorly.co.uk. Update us with any fundraising activities that you get up to, at work or home.
Lastly, if you have been affected by a road traffic accident or bereavement and need support, Brake's helpline is 0808 8000 401. This line is operated Monday-Friday, 10am-4pm.
Brake's vision is a world where people can get around in ways that are safe, green, healthy and fair.
It's here! New year, new website. You may have noticed some things have changed over at motorly.co.uk. Our refreshed look and improved mobile-first design makes it even easier for our customers to save on all things motoring.
The motorly web team have been even busier than usual, working super hard behind the scenes to give our website a complete redesign and makeover – very nice work!
Our improved, minimalist design means we can help our customers even faster than before. As a result, we've increased the site speed so we are able to match you with the best car finance deal – quicker than ever!
previous website design
As you can see, we've taken a far more mature design approach to the motorly homepage, by phasing out the majority of the illustration. Replacing illustrations with a rendered image of a single-vehicle gives a coherent appearance and is more in-line with the motorly brand.
The motorly blog area has benefited from a complete redesign too. By splitting topics with viewable subject categories, it is now much easier to find the relevant information you need.
So, whether you are looking for money-saving tips on multi-car insurance, or simply want to browse the latest motoring news. There's now only one place you need to visit – motorly.co.uk/blog
By listening to our customers and taking feedback on board, we have successfully made the motorly online journey easier and clearer. Above all, we are excited to launch even more amazing motoring products and services across motorly.co.uk throughout 2020 and beyond.
What do you think of the new motorly website? Share your thoughts with us on social media using the hashtag #wearemotorly
Look out for upcoming motorly updates. Let us help you on the road with the brand new motorly.co.uk